Fri 10/12/2007: The weather was fair and classmates registered at Norris and picked up their 25th reunion t-shirts (thank you, Robert Leighton!) and football tickets. The reunion tent party on Deering Meadow started at 5:00 p.m., and after it got dark we walked over to Sheridan Road to watch the Homecoming Parade, with Grand Marshal Clinton Kelly (Medill MA '93, co-host of The Learning Channel's popular fashion makeover show "What Not To Wear").

Sat 10/13/2007: The reunion tailgate at Ryan Field got started at 9:00 a.m., and the football game against Minnesota kicked off at 11:00 a.m. After almost 4 hours of football, Northwestern prevailed 49-48 in double over-time! The weather was sunny and it warmed up into the 60s by the time the game was over. Our 25th reunion party at the Guild Lounge in Scott Hall started at 6:30 p.m., and we ran right past our schedule end time of 9:30 p.m. and we had to push the last of our classmates out of the door at 10:45 p.m.!

Sun 10/14/2007: Rain returned to Evanston as we headed for home!

---

See 20th Reunion photos.

Elisa Lewis-Kline
co-chair


Ben Slivka
co-chair


Sara Burkoff Owens
co-chair


Cam Findlay
co-chair

---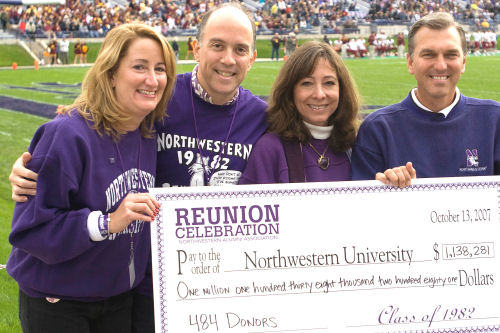 Elisa, Ben, Sara, and Cam at Glass Gift Check Presentation, 10/13/2007, Ryan Field


Last updated Thursday, September 6th, 2012.
© 2002-2022 slivka.com. All rights reserved.