| | |
| --- | --- |
| 1,834 | incoming freshman in 1978 [Department of Planning "Fact Book" Eleventh Edition (1978-1979)] |
| 1,892 | graduates in the Class of 1982 [Office of the Provost "Fact Book" Fifteenth Edition (1982-1983)] |
Class of 1982 Graduation Ceremonies, 6/19/1982
(Thank you to Kevin B. Leonard of the Northwestern University Archives.)
---
The student procession began at 9:00 a.m. into McGaw Memorial Hall and Commencement Exercises began at 9:30 a.m.

The individual school convocations followed:
Sarah Weddington: Arts and Sciences, 11:00 a.m., McGaw Hall
Dan Lewis: Education, 1:30 p.m., Owen L. Coon Forum of Leverone Hall
Georgie Anne Geyer: Medill, 2:00 p.m., Cahn Auditorium
Samuel Hope: Music, 2:00 p.m., Pick-Staiger
John Powers: Speech, 11:30 a.m., Pick-Staiger
John A. Kennedy: Tech, 12:00 p.m., Tech Auditorium

A group portrait of NU President Robert H. Strotz, NU Board of Trustee Chair Howard Trienens, the individuals who received honorary degrees from NU: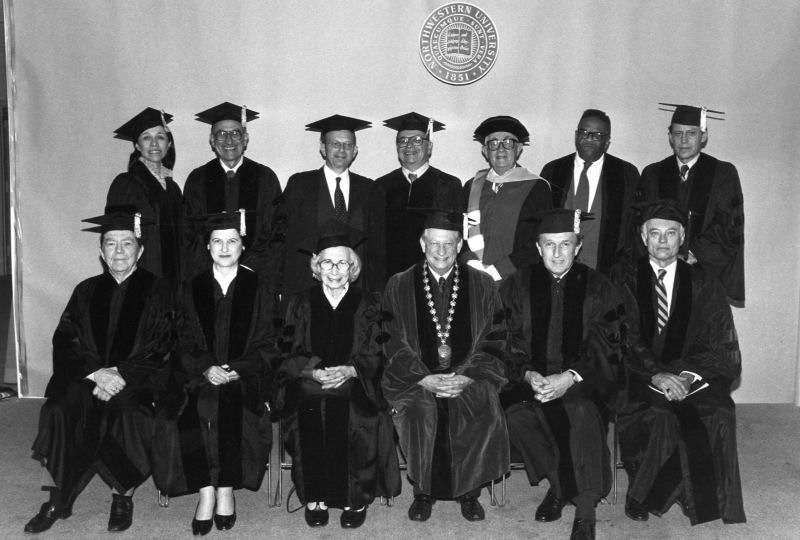 Standing in back: Maria Tallchief, Alfred E. Kahn, Peter B. Hirsch, Joseph Greenberg, Emil F. Mosonyi, Nathan A. Scott, Thomas E. Starzl.
Seated: Hugh S. Knowles, Sarah Ratner, Beatrice Mintz, President Robert H. Strotz, Dale L. Bumpers, Board Chair Howard Trienens.
Commencement Address by President Robert H. Strotz
(More on Robert H. Strotz)


6-B. REMARKS BY THE PRESIDENT

PRESIDENT: 

THOSE OF US RESPONSIBLE FOR THE CONDUCT OF 
THIS UNIVERSITY WOULD LIKE TO TAKE THIS 
MOMENT TO RECOGNIZE THE IMPORTANT ROLE 
PLAYED BY A VERY SPECIAL GROUP OF PEOPLE: 
THE PARENTS OF THIS GRADUATING CLASS. WE 
ARE AWARE OF THE HOPES, ASPIRATIONS AND 
SACRIFICES WHICH GO WITH PROVIDING AN 
EDUCATION FOR YOUR FAMILY. 

YOUR EFFORTS HAVE MADE IT POSSIBLE FOR YOUR 
SONS AND DAUGHTERS TO RECEIVE AN EDUCATION 
IN THE HIGHEST TRADITION OF THIS GREAT 
NATION. IN A VERY REAL SENSE, YOU HAVE 
PROVIDED THE LEADERS WHO MUST NOW BE 
RESPONSIBLE FOR MAINTAINING OUR HARD-EARNED 
FREEDOMS AND OPPORTUNITIES. 

WHILE THE DEGREES CONFERRED TODAY MAY BE 
MORE THAN ADEQUATE COMPENSATION, WE NEVER-
THELESS EXTEND TO YOU OUR HEARTIEST THANKS 
AND CONGRATULATIONS. IT HAS BEEN OUR 
PRIVILEGE TO HELP FULFILL YOUR HOPES AND 
ASPIRATIONS FOR THESE YOUNG MEN AND WOMEN 
DURING THEIR NORTHWESTERN YEARS. 


          29.


---


OF COURSE COMMENCEMENT DAY PRIMARILY 
BELONGS TO THE GRADUATES. WE ARE 
PARTICULARLY PLEASED AND HONORED TO HAVE 
WITH US TODAY MEMBERS OF THE GRADUATING 
CLASS OF 1932 - LOYAL ALUMNI OF NORTH-
WESTERN UNIVERSITY WHO HAVE RETURNED TODAY 
TO CELEBRATE THE 50th ANNIVERSARY OF THEIR 
GRADUATION. WILL THOSE MEMBERS PLEASE 
RISE AND RECEIVE OUR CONGRATULATIONS. 

TO THE CLASS OF 1982 MAY I SAY - AS OF 
TODAY, YOU ARE ALUMNI OF NORTHWESTERN 
UNIVERSITY, AND AS ALUMNI I HOPE MANY OF 
YOU WILL RETURN FOR YOUR FIFTIETH REUNION.
 
ON THAT OCCASION, THE CALENDAR WILL READ 
2032! FEW OF US ON THIS PLATFORM WILL BE 
HERE TO GREET YOU, BUT THE UNIVERSITY WILL 
BE HERE. AND AS YOU WALK ALONG THE LAKE 
AND THE TREE SHADED PATHS OF THE CAMPUS, 
YOU WILL PROBABLY STILL CATCH SIGHT OF 
UNIVERSITY HALL. 

WHAT WILL YOU REMEMBER, FIFTY YEARS FROM 
TODAY? 


          30.


---


IN ADDITION TO THE LIFE-LONG FRIENDSHIPS 
YOU HAVE MADE ON THE CAMPUS, CERTAINLY 
YOU WILL REMEMBER YOUR TEACHERS: THOSE 
GREAT PROFESSORS AND SCHOLARS WHO - ALONE - 
DISTINGUISH A UNIVERSITY. NO MATTER HOW 
IMPORTANT THE BUILDINGS, EQUIPMENT, AND ALL 
THE OTHER PHYSICAL PARAPHERNALIA OF AN 
EDUCATIONAL INSTITUTION, IT IS THE MEN 
AND WOMEN WHO USE THEM THAT COUNT. IN 
THEIR HANDS THESE FACILITIES SERVE YOU. 

ANY TIME UNTIL TODAY, YOU COULD HAVE WITH-
DRAWN FROM THIS UNIVERSITY AND TRANSFERRED - 
IN GOOD STANDING - TO VIRTUALLY ANY OTHER 
INSTITUTION. BUT FROM THIS DAY ON, AS 
ALUMNI, YOU BELONG TO NORTHWESTERN. AND, 
EVEN MORE IMPORTANTLY NORTHWESTERN UNIVERSITY 
BELONGS TO YOU. ITS ROLE DURING THE NEXT 
FIFTY YEARS WILL BE DETERMINED BY YOUR ACTIONS 
AND BY YOUR CARE FOR ITS FUTURE. 

SO TODAY I EXTEND TO YOU MY WARMEST, MOST 
SINCERE GOOD WISHES. AS YOU TAKE YOUR 
PLACE IN THIS GREAT LAND OF OURS -- INDEED, 
AS YOU NOW TAKE ON YOUR VITAL ROLE IN MAN-
KIND -- YOUR ALMA MATER ASKS THAT YOU 


          31. 


---


REMEMBER THIS: IN SERVING YOUR FELLOW 
MEN TO THE VERY BEST OF YOUR ABILITY, YOU 
WILL JUSTIFY THE HOPES, THE ASPIRATIONS 
AND THE VERY PURPOSE OF NORTHWESTERN 
UNIVERSITY. 

                    --

NOW I ASK THE NEW GRADUATES, AND OUR GUESTS, 
TO PLEASE RISE AND JOIN IN SINGING OUR 
UNIVERSITY ALMA MATER, WHICH IS PRINTED 
INSIDE THE FRONT COVER OF YOUR PROGRAM. 

7. THE UNIVERSITY ALMA MATER

Hail to Alma Mater! 
We will sing thy praise forever; 
All thy sons and daughters 
Pledge thee victory and honor. 
Alma Mater, praise be thine, 
May thy name forever shine! 
Hail to Purple! 
Hail to White! 
Hail to thee, Northwestern! 

               (Band plays 1/2 chorus instrumental.) 


          32. 





Last updated Sunday, June 26th, 2011.
© 2002-2022 slivka.com. All rights reserved.